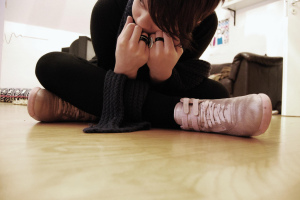 GABA is the major inhibitory neurotransmitter in your brain. That means that it is responsible for sending signals across synapses in the brain to quell overstimulated nerves. GABA works in tandem with vitamin B3 and inositol to alleviate the effects that an overabundance of worrying thoughts has on the motor centers located in the brain; thoughts that, if left unchecked, can subconsciously cause you to experience nervous side effects like feeling butterflies in your stomach or tightly clenching your jaw or fists. In short, GABA is like a natural tranquilizer for the body. It provides a soothing effect on your body when one gets overexcited, bringing one's excitability down to more normal levels.
So, what would happen if there were a deficiency of GABA in one's brain? Then the signals the brain receives from nerve cells will be over-firing, which causes tremendous negative repercussions in one's body. This is essentially a major factor, if not the root cause of such problems as anxiety, insomnia, depression, and seizures in many individuals.
But, is it possible to determine if one is suffering from a deficiency of GABA levels in the brain without having their problems escalating to the point of extreme anxiety, depression, insomnia, etc.? The answer to that, fortunately, is yes. There are many symptoms one can have when they have low GABA levels in their brain.
Some of these signs include:
Uncontrollably shakiness, trembling/twitching
Overabundance of energy
Blurry vision
Cold/Unusually sweaty hands
Muscle pains
Memory loss
Difficulty focusing or thinking
Abnormally high craving for carbohydrates
Headaches
Trouble falling asleep
Night sweats
Listed above are purely physical symptoms. Some emotional or mental symptoms of GABA deficiency are as follows:
Anxiety
Tempers
Depression
Mood swings
Feelings of despair
Sudden influx of phobias where previously there was none
If you experience any of the above, perhaps you should consider using GABA supplementation. Those who have a deficiency in GABA tend to suffer many problems related to anxiety and/or depression. This issues, if left unchecked, can seriously harm one's personal and social life. It will severely inhibit their ability to do work, enjoy life, and be a functioning member of society.
Photo Credit: Mira Culeuse
Article of interest: MSM Supplements